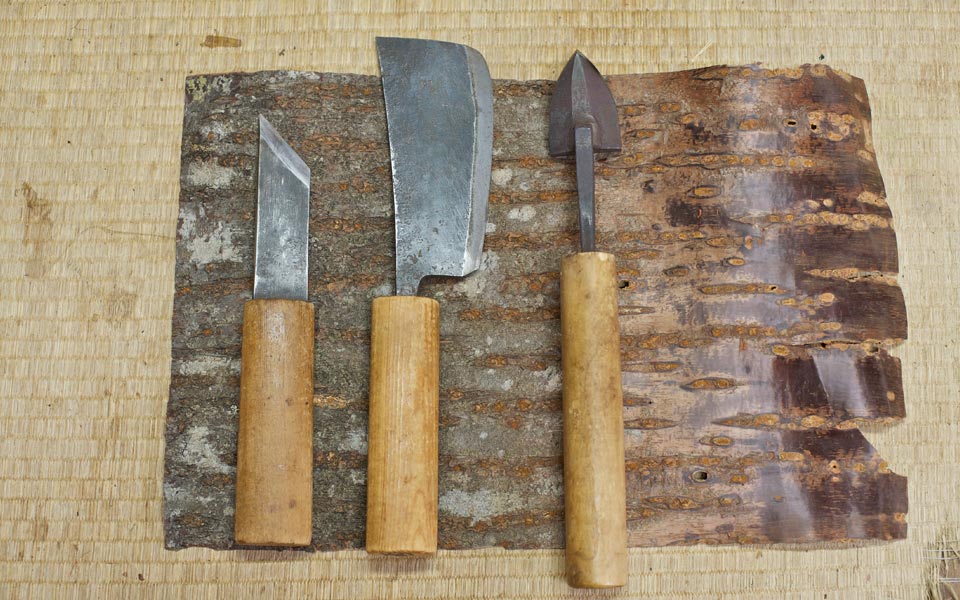 I solve my problems by myself. Hard work has honed my skills.
I became a cherry bark ware craftsman about 20 years ago. I was a construction joiner, making traditional Japanese-style doors, windows, cabinets, and chests. When aluminum window sashes started to become mainstream and the traditional Japanese style started to go out of fashion, I was asked to try my hand at cherry bark ware. I kind of got taken in by someone who said to me, cherry bark ware should not be so difficult for a construction joiner like you." However once I started working on cherry bark ware, I realised that this was not true at all – it was really hard! But, I have no regrets in stepping into the world of cherry bark ware, thanks to Mr. Keiichi Arakawa, my master. Under the instruction of Mr. Arakawa, I have achieved the level in which I can make high quality tea caddies.
It took me 10 days to pick up the method of making Katamono (cylindrical shaped cherry bark ware), and 2 months until I was able to make tea caddies. Fortunately, I was familiar with some of the tools of cherry bark ware, such as knives, as I had experience with using them when I was a construction joiner, and I did not struggle with picking up the skills that much. However, although the basics were relatively simple to learn, the subsequent learning was very difficult. Every time I encountered a new issue, the only solution was to try new methods again and again until I was satisfied. No one could tell me the answers to the issues I came across. I believe that working hard honed my skills.
The process of polishing the cherry bark needs a high degree of skill. We use a knife to smooth the knotted and lumpy surface of the cherry bark. I concentrate my full attention on this process because it directly affects the appearance of the tea caddies.